NaViSet Administrator 2

Version : 2.0.68
Overview
NaViSet Administrator is a network based control and asset management system for NEC display monitors and projectors.
With NaViSet Administrator you can:
Automatically monitor the operational states and control settings of your NEC equipment.
Send automatic email alerts of abnormal conditions such as overheating, cooling fan failure, and diagnostics errors.
Access and adjust the numerous control settings of your NEC devices using interfaces similar to that of their On Screen Displays and remote control units.
Monitor the operational states of both Windows-based computers connected to your network and single-board computers installed in your NEC displays.
Create detailed reports of device assets, operational states and control settings and export them to popular spreadsheet formats.
Supported Model
NEC desktop display series
NEC projector models with a LAN or RS232 connection.
NEC large-screen display series: MA, M, ME, UN, UX, BT, X, P, V, C, CB and E series(E series is only models with a built-in LAN connection).
The following large-screen display series is exempt from support model.
X series: X461UN,X461HB,X461UN,X461UNV,X462UN,X431BT,X461HB and X462HB
P series: P401,P461,P521,P551 and P701
PJLink devices
Operating System
Windows 32 or 64 bit versions:
Windows Server

2012 / 2016 / 2019 / 2022

Intel based Apple Mac
macOS version 10.13, 10.14,10.15,11.0,12.0
Operating Environment
LAN
Standard TCP/IP LAN interface. Static IP addresses required for most displays connected directly to LAN, unless name resolution (hostname) support is provided.
System Resources
At least 64MB available hard-disk space for installation.
Approximately 50MB per 100 devices hard-disk space required for database storage.
At least 96MB RAM (192MB recommended).
Software
Adobe Reader X or higher is recommended for viewing the User's Guide.
Microsoft Excel or Apple Numbers for viewing output spreadsheets.
Open Hardware Monitor (optional) for monitoring computer temperature and fan status. www.openhardwaremonitor.org
Go to download
Sorry, you cannot download these contents on this page from Cuba, Iran, Korea(North), Syria, Ukraine(Crimean region). These software programs and manuals subject to U.S. Export Administration Regulations. We shall not reexport or release them to the national below, without a license by BIS (a section of U.S. Government).
Click the filename from the following list.
*

This files include the following application.
NaViSet Administrator 2

Version: 2.0.68

DDC/CI WMI Provider (Windows Only)

Version: 1.3.05

RS232 WMI Provider (Windows Only)

Version: 1.2.02

LAN to RS232 Bridge (Windows Only)

Version: 1.0.00
Installation instruction
For Windows version
Start the autorun.exe after unzipping the NA2_Windows_xxx.zip file.
Please install the necessary software from the launcher.
For Mac OS
Start the NA2_MacOS_xxx.dmg after unzipping the NA2_MacOS_xxx.zip file.
Double-click the NA2_MacOS_xxx.dmg file to mount.
Open the mounted drive.
Please install in accordance with the instructions on the screen.
The launcher of English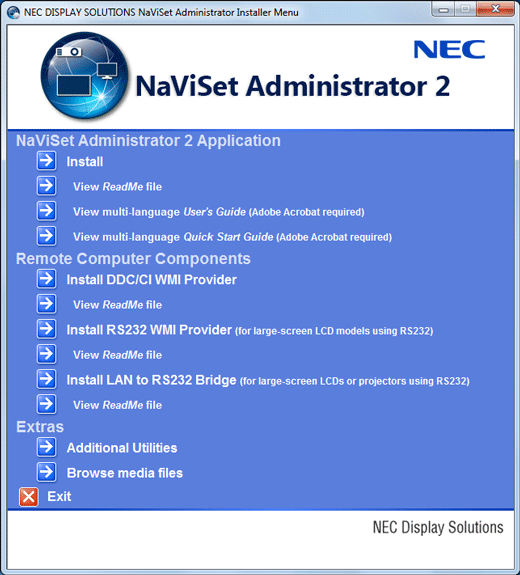 The launcher of Chinese