Raspberry Pi Compute Module
Attention
The documents included on this page are intended for qualified personnel only.
Be sure to thoroughly read all of the included cautions and warnings.
Download file format
Available documents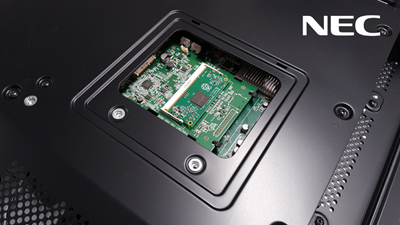 Choose a filename from the following list.
Document name and description
File name
File size
NEC Large-Screen Displays -Raspberry Pi Compute Module Setup Guide [PDF] rev.190307
Describes the features, installation, connectivity, and configuration of the Raspberry Pi Compute Module support in NEC Large-Screen display models.
NEC_Raspberry_Pi_Compute_Module_Setup_Guide.pdf
2.20MB
Compute Module Interface Board DS1-IF10CE Installation Manual [PDF]rev.170724
Describes the installation of the Raspberry Pi Comput! e Mode Interface Board and cooling fan.
DS1-IF10CE_manual.pdf
7.00MB
For your reference
Supported Models
NEC large-screen display series:
P series: P404, P484, P554, P654Q and P754Q
V series: V404, V484, V554, V404-T, V484-T, V554-T, V554Q, V654Q, V754Q, V864Q and V984Q
C series: C751Q, C861Q and C981Q
UN series: UN462A, UN462VA, UN492S, UN492VS, UN552, UN552A, UN552S, UN552V and UN552VS
UX series: UX552 and UX552S
Trademarks
*

Raspberry Pi is a trademark of the Raspberry Pi Foundation.