Firmware Update
Overview
This download page is for Firmware in the displays.
Supported Displays
X841UHD , X841UHD-2 , X981UHD , X981UHD-2 , X651UHD , X651UHD-2 , X551UHD
Update History
Improved operation of communication control
(LAN daisy chain performance by the remote control was improved)
Checking the Necessity of Firmware Update
Check the Firmware version of the display from "OSD - MONITOR INFORMATION" on screen menu.
If either of the versions is older than the following versions, needs to update the Firmware.
Firmware Version
Rev.4.8
FIRMWARE1:V1.039
FIRMWARE2:V1.007
FIRMWARE3:V1.019D
FIRMWARE4:V1.000
OSD-MONITOR INFORMATION
You can check the version of your Firmware on the following OSD screen.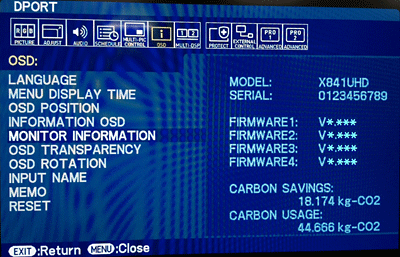 Updating
Notes
Read the instruction carefully before updating.
Be sure to updat the four Firmware in the package
Updating Procedure by LAN cable and Computer.
Preparation
LAN cable (Not supplied)
Computer
(※ Connection method to the display from a computer, be sure to read "LAN Control" on the user's manual)
Follow the instruction below to update the Firmware.
Updating Procedure by USB Memory.
Preparation
USB Memory (Not supplied)
Follow the instruction below to update the Firmware.
Go to Download