Projection to Other Projectors on Other Networks
The projector supports communication with other projectors and PCs on the same segment or on other networks, making it possible to hold virtual meetings. This allows easy integration of the projector into an existing network environment. The projector comes complete with an automatic search function for automatically locating other projectors connected to other networks.

In a wireless LAN, the projector uses radio waves to exchange data with PCs and other peers via wireless access points. While a wireless LAN has an advantage of flexible establishment of connection within its coverage area, it is vitally important to ensure the correct security configuration because radio waves travel through walls and other barriers and reach any point in a limited area.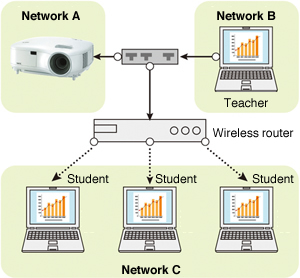 Designated Presenter Mode for image projection from screens of designated users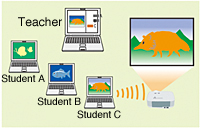 In a computer class, for example, the instructor can use this mode to select a specific computer from several computers used by the class attendees and project images from that screen via the projector. Conversely, the class attendees can upload their finished assignments to the PC of the instructor.
Fingertip switching between PCs (projected images)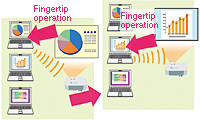 A conventional projector has had to be reconnected from one PC cable to another when presenters take turns. Now with the projector connected to a wireless LAN using Image Express Utility 2.0, it is possible to switch between PCs by a fingertip operation. A click on the Become a Presenter button on the PC screen allows the next presenter to connect a different PC to the projector.
Real-time distribution of projected images to other PCs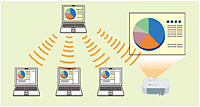 Now it is possible to project and distribute images from one PC via this projector to other PCs. This feature comes in handy when a conference is held in a large room where attendees seated far from the screen want to use nearby PCs to have a closer look at projected slides full of text in small letters.
Redistribution of handouts of projected slides (files) via network
It is possible to redistribute presentation handouts (files) via download locations on networks for the convenience of other attendees. This saves the trouble of distributing paper handouts and helps to reduce waste of paper and labor.
* Communication may be impossible in some network environments depending on the router or firewall setup.
HTTP Server Function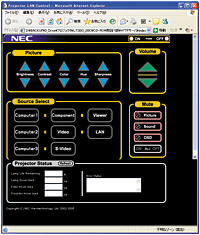 With the projector connected to PCs via a LAN (wireless/wired), the HTTP server function allows the user to monitor the status of the projector, including the lamp use time, on their PC browser or to perform remote control operations such as power on/off, input signal switching, and image adjustment.
* Use Microsoft Internet Explorer 4.X+ or equivalent browsers.
* For wireless LAN connections, use a wireless LAN card or a wireless LAN unit (supplied). For wired LAN connections, use a commercially available wired LAN card for the WT615/WT610. For information on wired LAN card compatibility, contact the NEC Projector Customer Support Center.
Desktop Control Utility 1.0 (supplied software)
This software allows the user to operate remote PCs via the network using a USB mouse connected to the projector. The user can, for example, project images of some materials on the hard disk of the PC on the user's desk via a projector installed in a meeting room.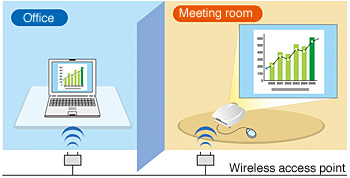 Standard supplied software: Image Express Utility 2.0 (ver. 2.02 and later)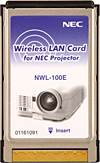 The combination of the standard supplied wireless LAN card (NWL-100E) or a wireless LAN unit and the wireless network software, Image Express Utility 2.0, allows wireless projection of the PC screen to the projector screen.
High speed wireless LAN compatible
NEC's original codec (compression) system Suite compression enables fast and high quality image transfer as well as comfortable wireless presentation.