Quick Connection

The Quick Connection feature simplifies complicated parts of the initial wireless LAN setup including IP address settings. Moreover, the Resume Meeting feature saves the initial settings and creates a desktop shortcut icon that allows subsequent connections with just a double-click.
* Windows Vista/XP and administrator rights required. The communication mode defaults to the ad hoc mode.

ad hoc mode : Mode that equipment communicates directly mutually without access
Stand-by Projector Power-ON
As soon as accessed, the projector on standby automatically turns on and starts image projection. This feature comes in handy for a ceiling-mounted projector.
Automatic Adjustments
Just a push on the AUTO ADJ. button on the body immediately tunes the unit according to the input signals from various devices connected. Screen misalignments that may occur with multiple PCs connected can also be corrected by a fingertip operation. When the SOURCE button is pressed, only signals containing video data will be automatically detected and decoded. Screens receiving no video data signals will be skipped to allow smooth screen switching.
PC-less Presentation
With image data*1 storing USB memory*2 or PC card*2 connected to the USB terminal or PC card slot, the projector can be used to deliver a presentation.
*1 Supported image formats include JPEG, BMP, and GIF.
*2 Availability varies between models.
Quick power-off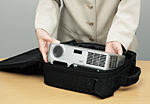 The power plug can be removed while the cooling fan is still turning after power-off of the projector. Because it is no longer necessary to wait for the cooling fan to stop, the projector can be quickly picked up and moved to the next location.
One-Push Tilt Foot Mechanism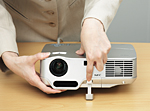 The Tilt Foot extends at just a press on a button and adjusts the projection angle, enabling easy adjustment of the screen height.
Direct Power Off
Even during projection, the projector can be powered off with a flick of the breaker or table tap switch. This feature comes in handy when power supplies are centrally controlled.
Automatic Signal Selection
As soon as powered on, the projector automatically recognizes and decodes image-containing signals to project images on the screen.