Pivot Turn Capability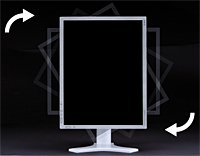 The panel pivots by 90 degrees for a portrait view mode to provide the best view of a word processor screen or a website page.
Main Power Switch
With this switch turned off, the monitor will have almost zero power consumption, contributing to energy saving with a minimum vampire energy.
LED Brightness Adjustment
The brightness of the main power lamp can be adjusted not to disturb the on-screen image when watching a dimly lit scene in a movie or when viewing in a multi-monitor environment.
Built-in Power Supply
The monitor comes with a built-in power supply. Installation without a separate power adapter keeps the desktop or the floor neat and tidy.
Tile Matrix Function
Up to 25 (5 x 5)* multi-screen configuration is possible. The TILE COMP function allows for high precision and smooth complementation and presentation of difficult inter-bezel image boundaries.
*Variable between models.

Long Cable Correction Function
Even with a long distance cable connected (up to approx. 100 m), this function suppresses signal degradation and corrects color shifting. It also supports the synch-on-green connection widely used in financial institutions and the separate synchronization signal intended for public purposes. Thus, stable imaging is achieved wherever installed.
*Applicable only to analog signals.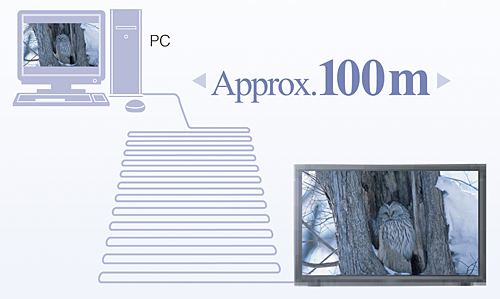 USB Hub Function
The monitor comes with upstream port x 1 and downstream port x 2 x 2 for better scalability. It also supports connection to USB-compatible peripherals including a memory device and a mouse.

Arm Mountable
The monitor is mountable on a commercially available VESA standard compliant arm or other commercially available supports. Screw hole interval selectable from 75 mm/100 mm/200 mm x 100 mm, 600 mm x 200 mm, as appropriate for the model.
Scheduling Function
Scheduling function for auto-power on/off control. After selecting from Daily, Mon. to Sun., or Weekly, up to 7 ON/OFF schedules can be set by a simple input procedure.