HDCP Compatibility
The HDCP (high-bandwidth digital content protection) is a copyright protection system used for digital video signal encryption. Connection with HDCP-compatible visual equipment enables the user to view HDCP-protected video titles.
Auto-Dimming
The built-in luminescence sensor automatically optimizes screen brightness in response to the indoor brightness /darkness. This Auto-Dimming feature always maintains screen brightness at an appropriate level to reduce eyestrain caused by staring at the screen for a long time. An OFF Mode function is also provided that automatically switches the monitor to the power save mode in response to the darkness of the surroundings.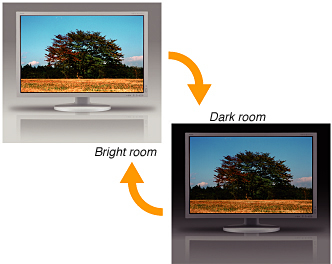 DDC/CI
DDC/CI is the international standard for interactive communication of settings data between the monitor and a PC. The straightforward GUI on the PC allows various adjustments of the monitor.
Pixel Skipping
When the supported maximum resolution is exceeded, the monitor automatically reduces the number of pixels in the image to be displayed. The PC can be re-set while viewing the screen.
Hot keys
The hot keys on the monitor provide an alternative means to the OSD screen and a handy means of directly performing brightness and contrast adjustments and DV MODE switching.
*Hot key operations may vary depending on the model.
DV MODE
This function allows fingertip selection of the best screen quality mode for the movie and other video content to be viewed.
*DV MODE : Dynamic Visual Mode
PC 3-channel input
The monitor comes with three types of connectors selectable from DVI-D connector for digital-to-digital input of signals from the PC, DVI-I analog and digital input connector, mini D-SUB 15-pin connector for analog only input, and BNC connector. The monitor supports selective operation of three simultaneously connected PCs. It also supports Automatic Input Selection to automatically display the screen of a PC that is the currently active video signal input source.

Ultra Thin Bezel
The left and right or upper and lower bezels are thinned down to below 8.0 mm. Even in multi-monitor environments, the bezels are no longer a distraction.
Quick Release function
The stand can be released with just a flip of the lever on it. Unscrewing is no longer necessary when installing the monitor with the stand removed.
Stand Height Adjustment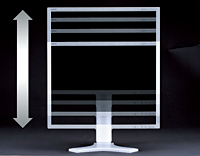 The monitor height is adjustable for best visibility from the viewer or in the operating environment.